Offer your customers a superior air filtration mask
From hardware and home improvement to agriculture and ATVing, RZ Mask has hundreds of users and types of end uses. Join the family of RZ retailers to offer the most comfortable dust protection mask to your customers!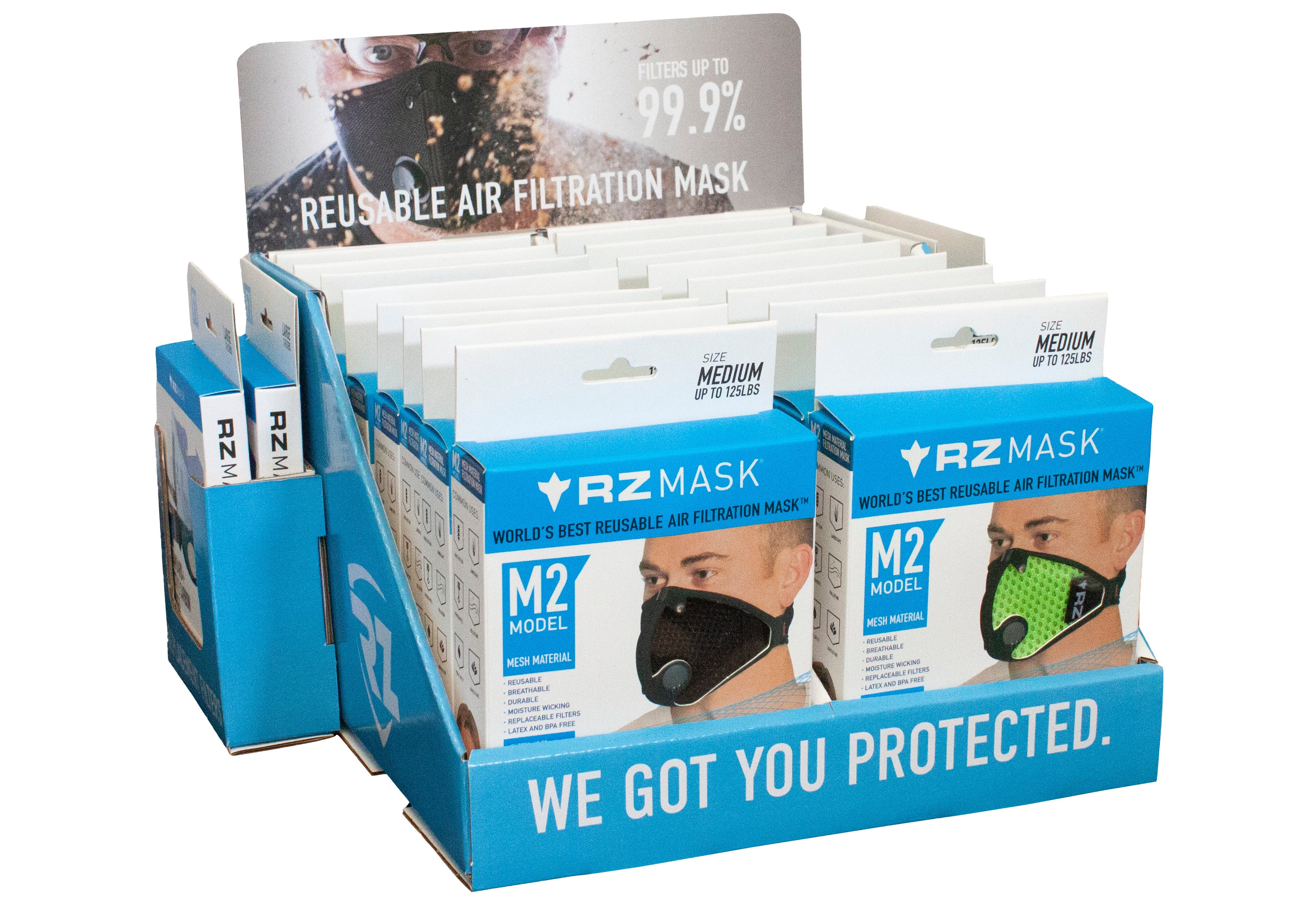 RZ INDUSTRIES POINT OF SALES SUPPORT
Clip Strip | Countertop Display | Floor Display
COMMUNICATE THE VALUE VS. DISPOSABLE N95 MASKS
CLIP STRIP
Fans of RZ Mask have been coming back for over a decade because the mask is comfortable, protective and it won't fog your glasses like many respirators. Additionally, frequent wearers can save up to $550 a year on average compared to daily disposable respirator wear in dusty environments.
Place the clip strip in-store where makers are shopping - sanding and sawing, woodworking materials or respirators. Each clip strip can hold 6 masks. Clip strip is available empty if you already have excess inventory, or fully loaded with 6 masks and 2 replenishment masks.

MANNEQUIN HEAD AND
COUNTERTOP DISPLAY
Promote the RZ Mask at checkout with the flexible counter top display that comes with two header top options. Displays feature 16 M2 Mesh Masks plus four (4) F1 Filters to drive repeat purchase.
MULTIPLE SIZES OF
FLOOR DISPLAYS
Communicate the value of RZ Masks and efficiently sell product as an end cap. Proven to increase sales, the RZ display is eye-catching, informative and ready-to-sell right out of the box.
2x5 Display: Holds 32 Masks, 15 Filters
3x5 Display: Holds 48 Masks, 24 Filters


WHY RETAILERS LOVE RZ MASK
+ High Margins
+ Filters Drive Repeat Purchase
+ Turnkey Displays
+ Superior Product Offering for Customers

Fill out the contact form above to get started!